Share for sale in 70' trad narrowboat
ODYSSEY
<![if !vml]>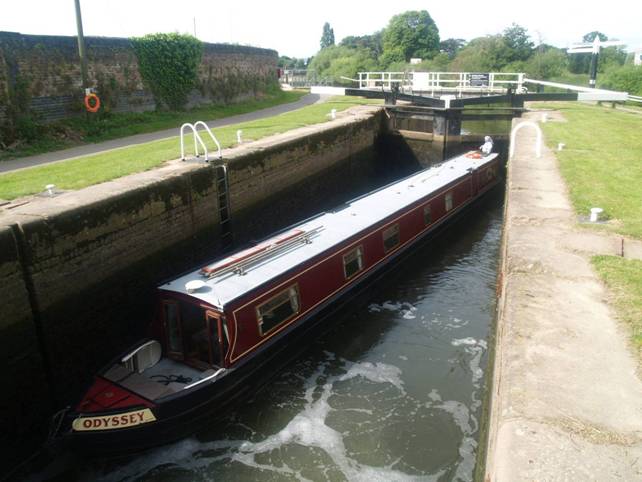 <![endif]>

9-berth boat in a friendly sharing scheme
three or more weeks use per year
boat cost – one twelfth of £40,000
SHARERS:
Twelve: this share is one twelfth of the total value of the boat
YEAR OF CONSTRUCTION:
1995
HOME MOORINGS (2010-11):
GREAT HAYWOOD MARINA
Near the junction of the Trent and Mersey Canal and the Staffs and Worcs Canal
CHANGE OVER DAY:
Saturday each week
BERTHS:
Nine berths, in a 6+3 configuration, comprising: one fixed double bed in its own master cabin; bed can be extended to King-size. Four bunks in their own cabin, with own toilet and washing facilities: these bunks can also be converted to comfortable bench seating. One dinette which converts to a double bed. One bench seat , convertible to a bunk, separated from dinette by a curtain.  And the back cushion of the above can be used on the floor as another, tenth, bed.
ACCOMMODATION
REAR DECK: Steering position is Traditional. The steerer stands cosily within the boat hatches and steers with the tiller. Access to boat's mobile phone. Behind the steerer is the fuel tank filler and rope bollards. There is access to the propeller's Weed Hatch
REAR CABIN: Four bunks, two each side, either of which can be converted to bench seating by folding down the upper bunk. Radio. Viewing position for boat Television. Storage under bunks. Steps up to rear deck; removable to give lower level access to propeller's weed hatch. Whole cabin rebuilt for 2006.
REAR BATHROOM: cassette toilet on one side and wash handbasin on the other: central aisle doors separate when in use. Also rebuilt for 2006.
ENGINE ROOM: side mounted engine with hydraulic drive to propeller. Nanni diesel 2.2; this is one of the various marinisations of the Kabota. Boat batteries; tools and navigation equipment cupboard. Opening hatch on either side. Engine was new, and engine room rebuilt for 2006. Folding Bicycle, new for 2008. Inverter supplies 240v Mains power forward through boat.
MASTER BEDROOM: double bed extendable to kingsize. Mattress replaced in 2007. Wardrobe. Dressing table. Boat bedding – duvets and pillows - are kept on the boat and renewed each year; each crew brings their own covers
BATHROOM: Pumpout toilet. Quadrant bath/shower. Washhandbasin. Accessed from corridor outside is the Central Heating -hot water gas fired boiler
KITCHEN: Gas cooker with 4-ring burners, grill; oven;  microwave; Refrigerator with freezer compartment. Cutlery, plates, mugs, cooking equipment. Sink and drainer. Opening hatch opposite with removable perspex window. Separated by high level glazed door crockery cupboards from…
DINING AREA: Removable table with L-shaped dinette on small plinth to view through front windows easily. Converts to double-bed. New upholstery in 2008. Storage under. Optionally separated by curtain from …
SITTING AREA: Wardrobe above drawers, opposite solid fuel Squirrel boat-stove. Bench seating converts to single bed with back cushion forming an extra (tenth) sleeping position on the floor. Second table stored under gunwales when not in use. New upholstery for 2008. Digital flat-screen TV/DVD new in 2008. Side cupboards for Television and Radio/CD player; extension loudspeakers in Master Bedroom. Under-front-deck storage. Glazed full-width front windows. Floor coverings throughout boat replaced in 2007. Step up to glazed front door to…
FRONT DECK: Open seating around three sides. Under seat outside storage. Gas locker. Storage locker. Pointed bow has fresh water tank. T-stud and navigation ropes.
EXTERNAL: Boat roof has non-slip surface; storage for boatpoles, planks. Side decks also non-slip. Paint scheme in red with gold break-lines; Odyssey name on front and on both cabin sides. Repainted regularly as part of winter maintenance.
OTHER DETAILS
SHARE SCHEME: Run privately by the owners
PETS: Allowed, and pet owners take extra care to remove pet hairs.
SMOKING: not prohibited, but smokers are used to smoking outside these days
BOOKING ARRANGEMENTS: The Owners are working on a new system for 2012. For 2011 each twelfth share has booked three weeks with the potential for a fourth at short notice where the boat is unused. There are three owners who pay a premium on their maintenance and management costs to have priority booking of their school holiday weeks, which they fix before other owners choose their weeks. This share is one of the nine standard shares without the additional priority for school holidays
BOOKINGS 2010: 17th September for a fortnight, 8th October for a fortnight. Can discuss using some or all of these and other possibilities.
RUNNING COSTS 2010  The total  maintenance costs for this share for 2010 was £629.63. For 2011 each twelfth share has paid £500 in January and a standing order of £50/month for the rest of the year. A surplus is expected at the end of the year.
ANNUAL GENERAL MEETING: Saturday 15th October 2011 at Great Haywood.
REASON FOR SALE: Bought a share in a traditional ex-working narrowboat; Town Class Large Woolwich nbFulbourne.
PRICE: £3333
HANDOVER: Includes a free day's introduction and tuition with current owners at convenient date
PHOTOGRAPHS: http://picasaweb.google.com/PeterJohnScott/Odyssey
CONTACT: Peter Scott email peter@homescott.free-online.co.uk phone  0114 2301870